Learn more about the best grammar checker software for WordPress blogging, whether you are a student or working professional, or simply need a fresh start.
If you're writing an article or a blog for your WordPress website, make sure you check it before publishing it. You're bound to make a few mistakes, especially if you're not a native English speaker.
You can use several online grammar-checking tools on your WordPress website to ensure that you don't make any mistakes.
It can be difficult to choose the best free grammar checker software. You can't possibly manually verify stuff like emails, long blog posts, documentation, and so on if you have a large workload.
And, if you're just getting started, funding constraints make it nearly impossible to employ professional staff to rectify tiny grammatical errors. We've put together a list of the finest free grammar checkers to assist you in your quest.
Let's get started!
---
Price – Premium – $144/annually,  Business – $150/annually (1 Member)
Grammarly is not only one of the most popular and effective grammar checkers on the market, but it also has several useful integrations for WordPress and other online writing applications. To begin, Grammarly offers a free Chrome extension that proofreads and proposes edits. When you open WordPress, as well as other apps like Gmail, Google Docs, and social media accounts, you can expect to see Grammarly in action.
Grammarly is more than just a spellchecker. It's meant to help you improve your grammar and spelling by analyzing what you've already written. Grammarly detects issues such as weak adjectives, misspelled words, missing articles, and improper comma usage.  Furthermore, Grammarly gives you error reasons so you can improve your writing in the future.
The Grammarly Chrome addon is completely free. In most browser-based applications, this plugin activates a variety of Grammarly functions. Grammarly also has native programs for Windows and Mac, as well as a free download for a version that works with Microsoft Office.
When it comes to subscriptions, the company now offers three options: free, premium, and business. The free plan only includes basic writing corrections, whereas the premium and business plans include the majority of the features.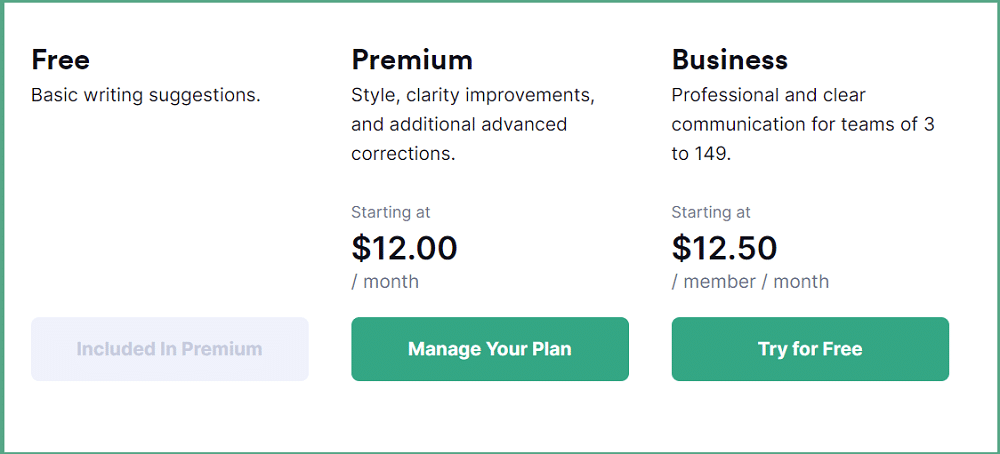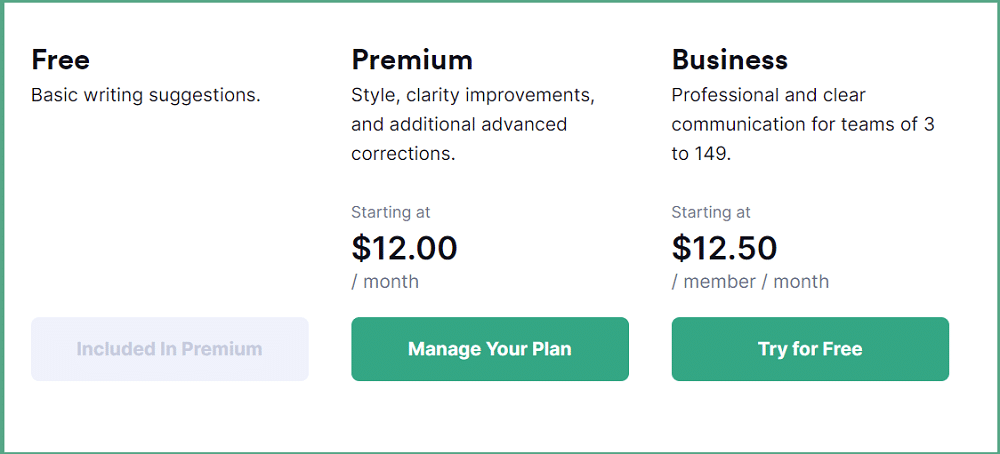 ---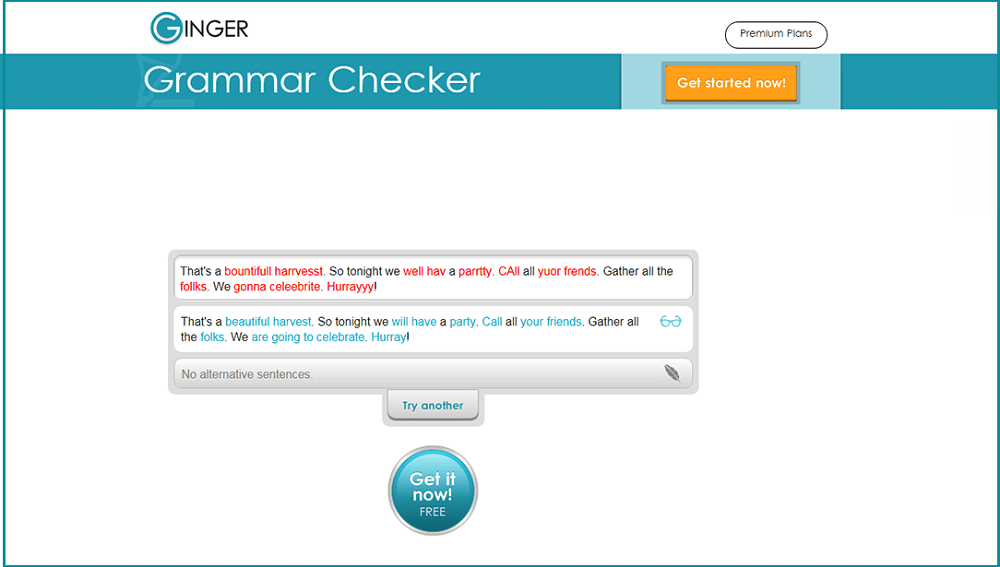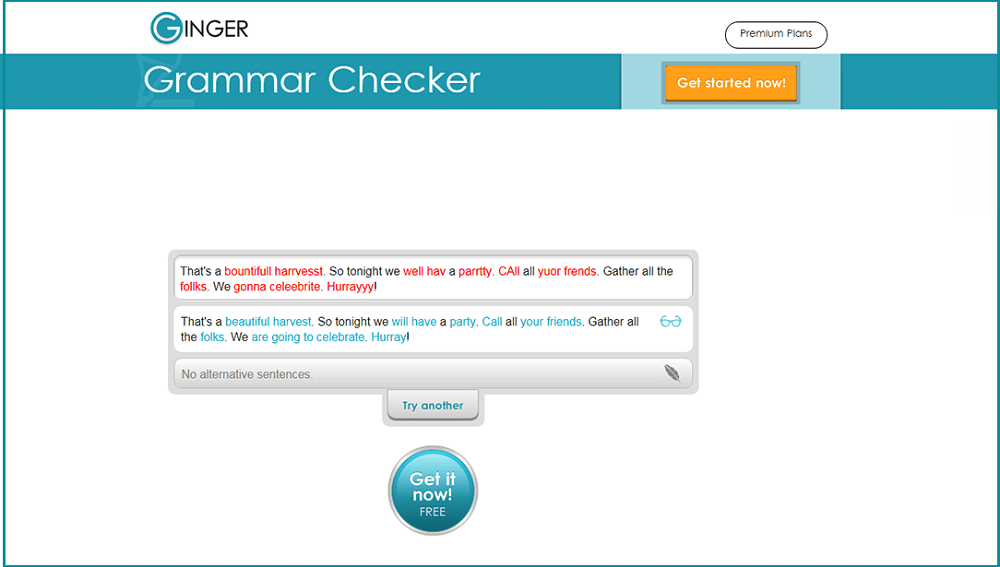 Price – Monthly – $13.99,  Annual – $89.88,  Two Year – $167.76
Ginger is a cutting-edge tool for detecting and fixing grammar problems in the text. No matter how proficient in English you are, there are bound to be some faults that need to be double-checked before being uploaded anywhere. Ginger is a user-friendly grammar and spelling analyzer that helps you write better and more effectively.
Ginger is a browser extension that can fix grammar and grammatical issues. Spelling, punctuation, grammar, and other flaws are examples of such errors. You can write Grammar-friendly text for anything with the help of the Ginger tool.
Furthermore, this well-designed Grammar Checker can be installed as an extension in your Chrome and another browser. Then it will automatically proofread whatever you write across several platforms, including Facebook, Gmail, LinkedIn, and any other social network.
This app has a lot of handy features and options. If English is not your first language, it can be a very useful tool in making people's life easier. It will highlight all errors, including unnecessary spaces and erroneous comma, semicolons, and comma usage.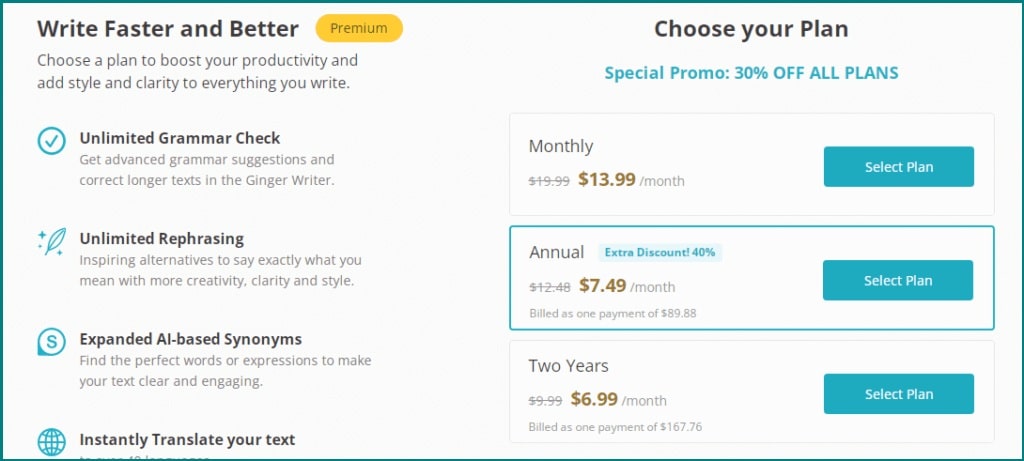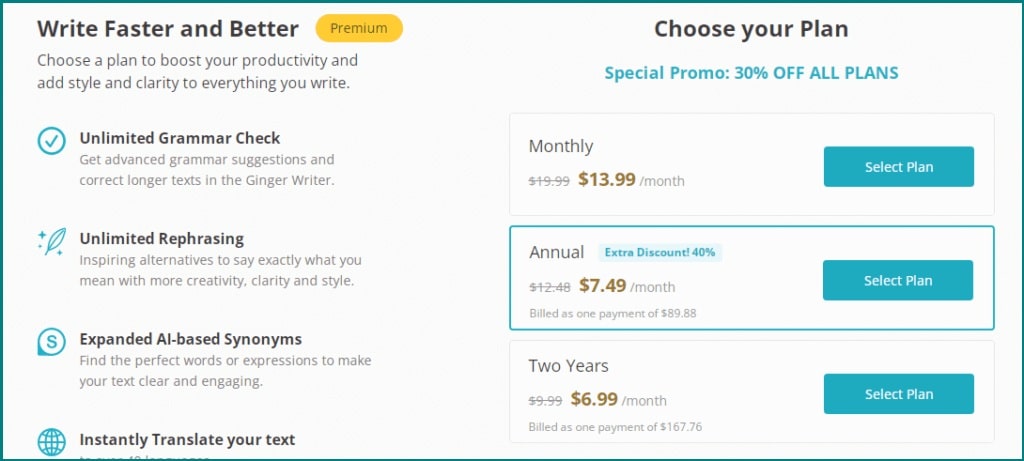 The paid edition of this software has more capabilities including sentence rephrasing, which allows you to rewrite sentences for better clarity. There is also a translator that works flawlessly with 60 languages.
It interacts seamlessly with Gmail, Twitter, and Facebook, allowing you to improve your writing on prominent public platforms.
---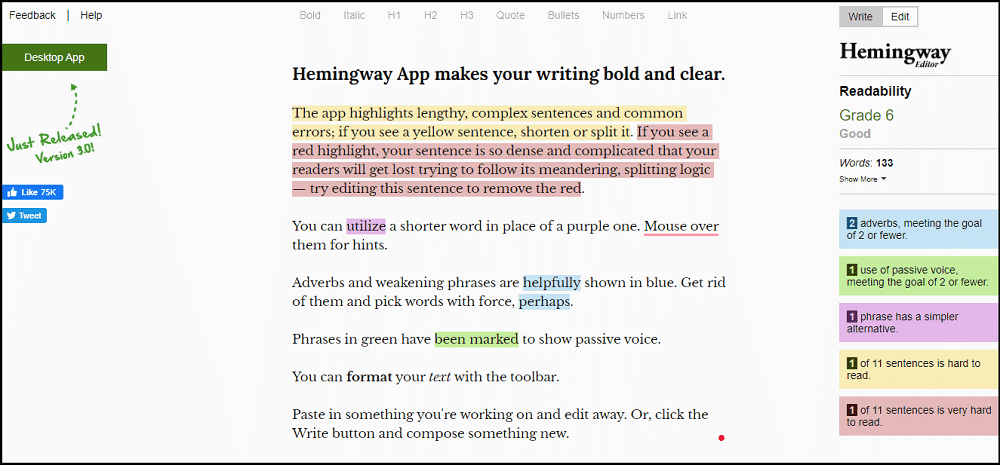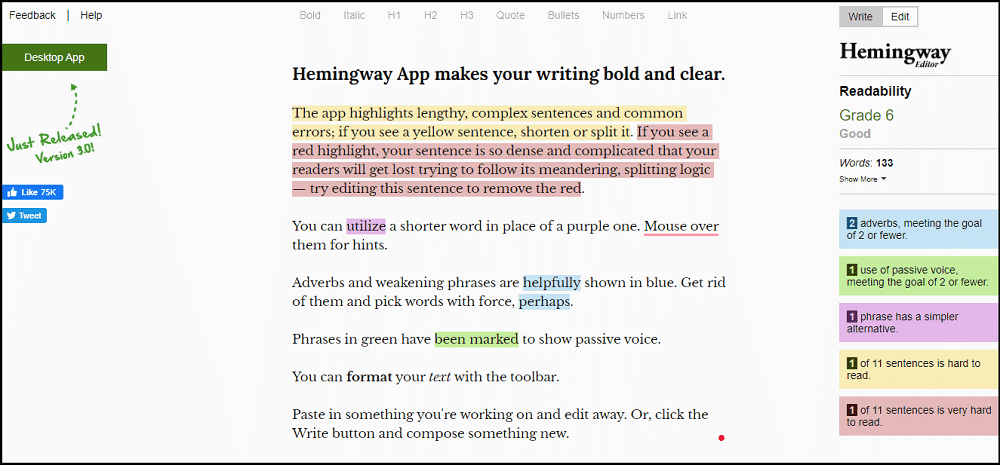 Price – Hemingway Editor – $19.99/annually
The Hemingway App isn't quite like your other grammar checker. This is because it aims to make your writing more brief, dynamic, and engaging. It's named after Ernest Hemingway, who was known for using short, simple sentences while providing vivid descriptions in his work. Not only that, but he made it a point to always employ active voice rather than passive.
Instant feedback will show in the sidebar on the right side of the page once you paste your content into the editor (or write directly into it). You'll see the number of letters, characters, words, paragraphs, and sentences in your text, as well as the projected reading time.
Different colors are also used in the app to indicate text changes. Adverbs and weak language, for example, are highlighted in blue, whereas complex and difficult sentences are highlighted in red, and run-on sentences are highlighted in yellow. There are two versions of Hemmingway: one is a free online version of the Hemingway Editor, and the other is a $19.99 one-time payment for the desktop version.
---
Price – Jetpack offers free proofreading services. The plugin can be found in the WordPress directory.
Jetpack is a plugin package for WordPress that includes several useful modules. In contrast to the above-mentioned tools, which are largely browser extensions, Jetpack is a plugin for WordPress. This plugin adds proofreading to your WordPress post editor when you install it on your site.
You can now modify your content by heading to the Jetpack settings page and activating the "check your spelling, style, and grammar" option. "After the deadline technology", which is a free grammar checking tool, is used by the plugin.
The style option in Jetpacks checks your text for jargon, bad phrasing, complexity, and unbalanced wording. Jetpack is a collection of additional features for your WordPress website, including SEO, security, social media, and more.
---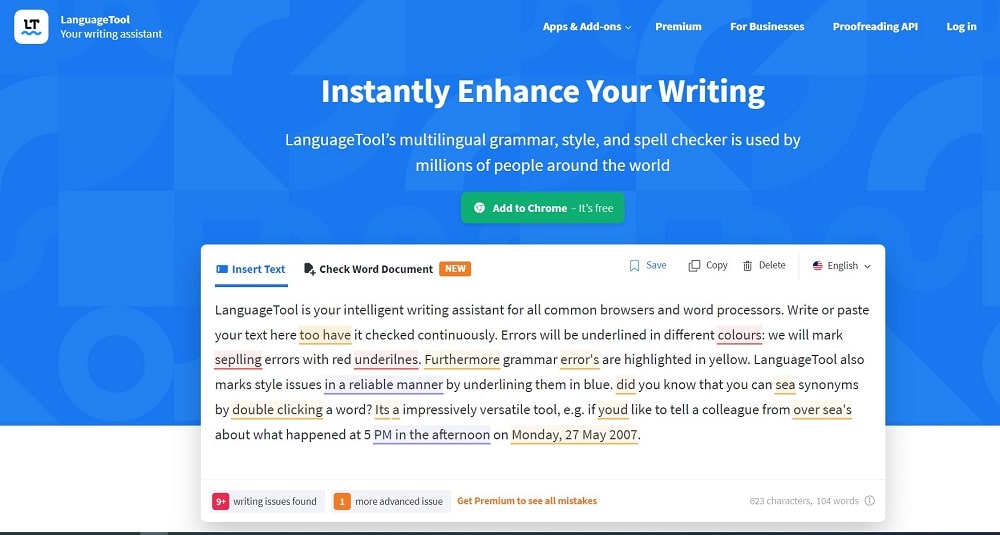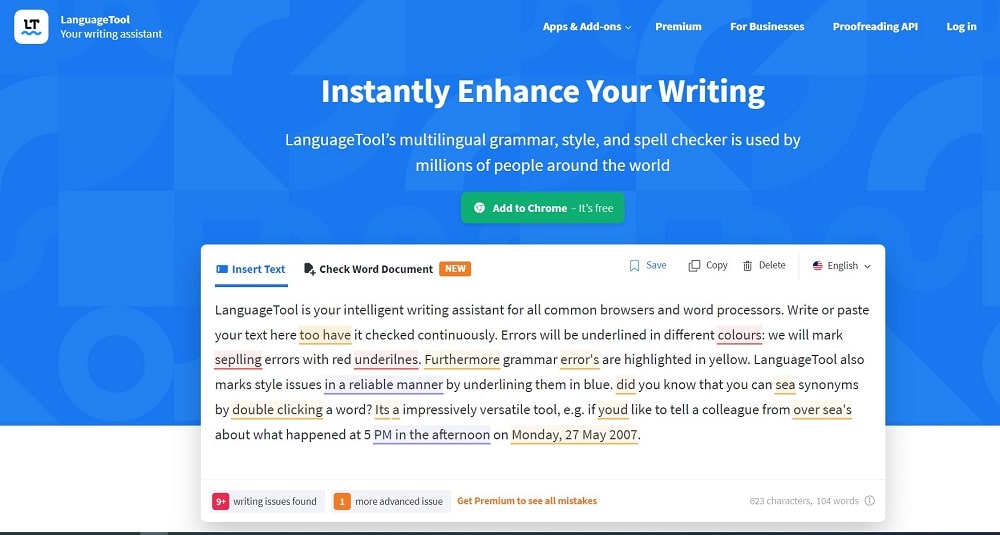 Price – The paid plan for LanguageTool starts at €3.99 per month.
Language Tool is a unique online grammar checker because it is driven by Open Source software.
Language Tool has a simple interface that makes it very easy to use, and its grammar checker is quite accurate. One of the most appealing features of this program is that it can be downloaded and used offline. You can also use the Language Tool to check grammar mistakes in a variety of languages, including Asturian, Catalan, Dutch, English, Esperanto, French, German, Italian, Japanese, Persian, Tamil, and many others!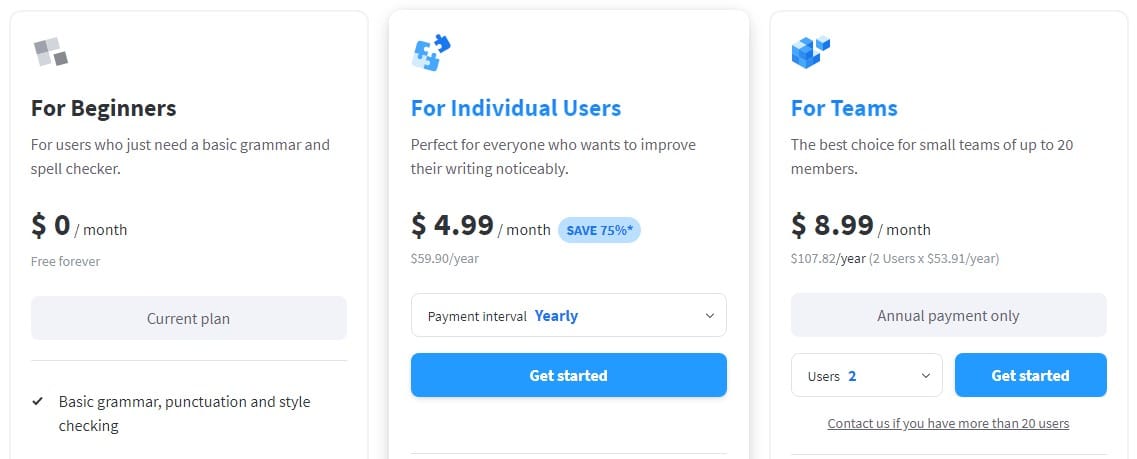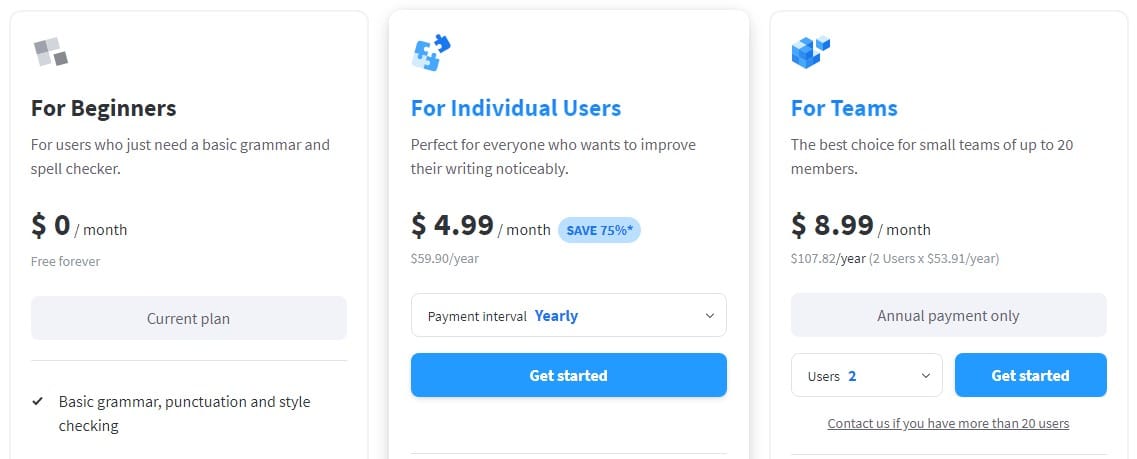 LanguageTool is compatible with Chrome, Firefox, Microsoft Word, Google Docs, and LibreOffice and can be accessed over mobile or web. Finally, Language Tool offers a forum that provides not just customer support but also a wealth of useful information.
---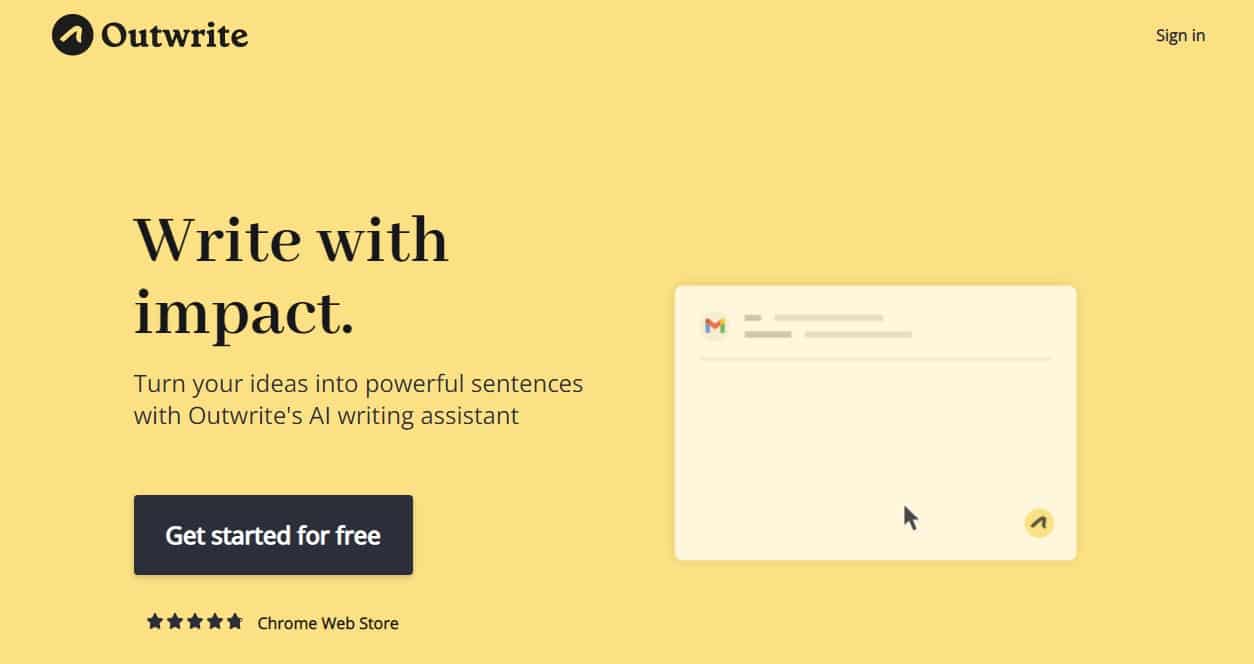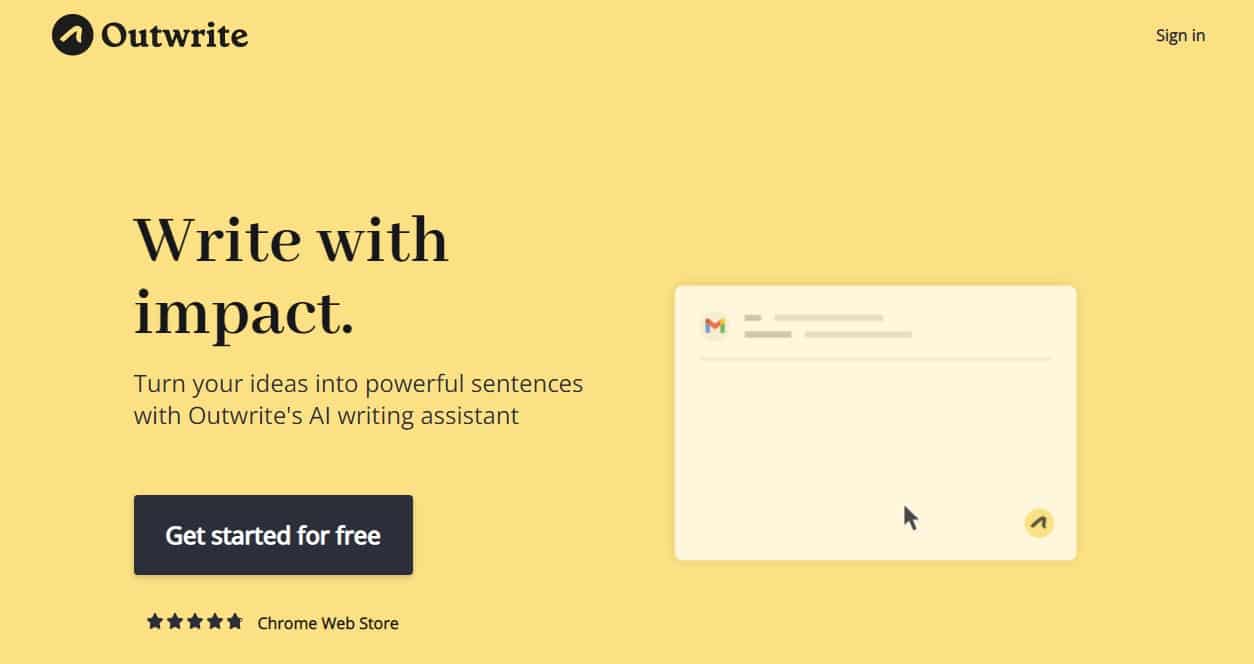 Price – Essential – Free,  Pro – $119.4/annually,  Team – $95.4/annually (1 User)
Outwrite is a multilingual grammar checker, as the name implies. It can correct grammatical errors in a variety of languages. Its free trial edition is accessible for new users for a limited time, after which you must pay a charge to download the software and use all of its functions.
It doesn't have a lot of complex features, but the ones it does have are really good. The tool can correct complex grammatical errors. There are three distinct types of downloads to choose from depending on your needs.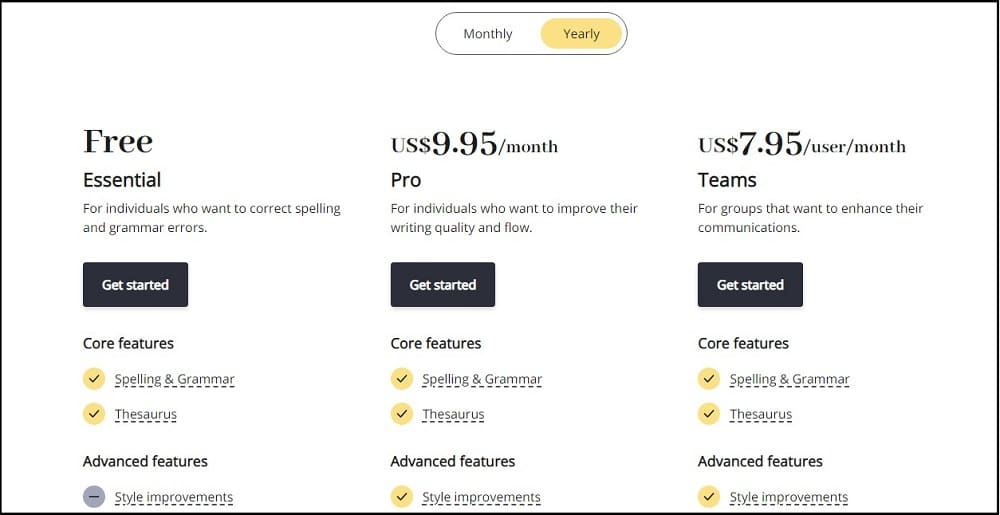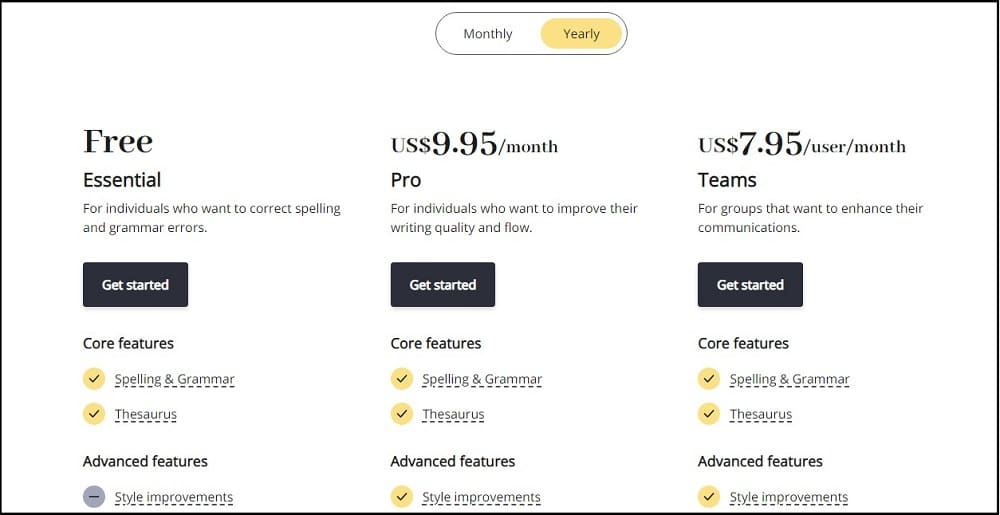 It can score your work and generate a review report based on the six criteria of sentence structure, expressions, words, voice, length, and redundancy, in addition to selecting faults from your content. As a result, you're aware of the areas where your writing could be enhanced.
Furthermore, there is no need to publish your content for proofreading on the software. Its capabilities are not limited to this; it can also rectify subject-verb agreement and contextual spelling. It detects errors in real-time as you type and highlights them with contextual information.
---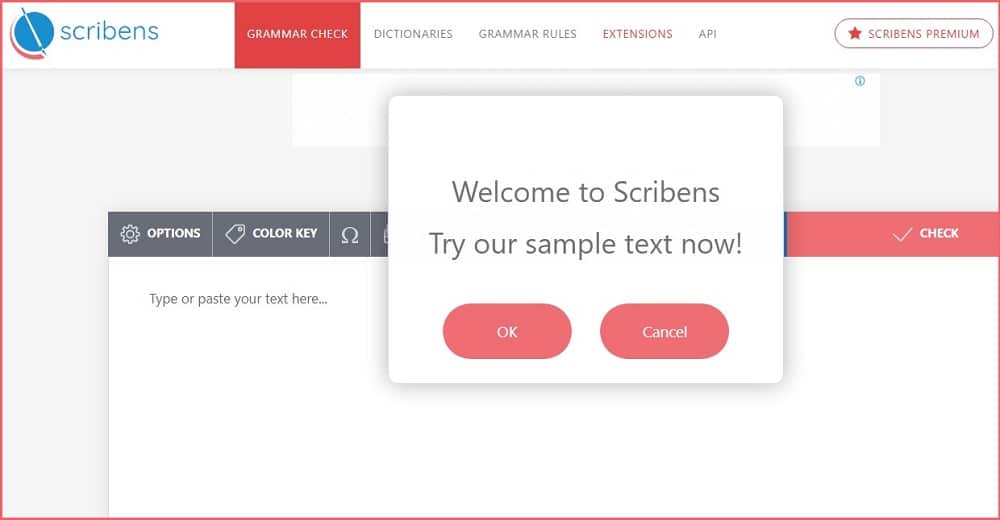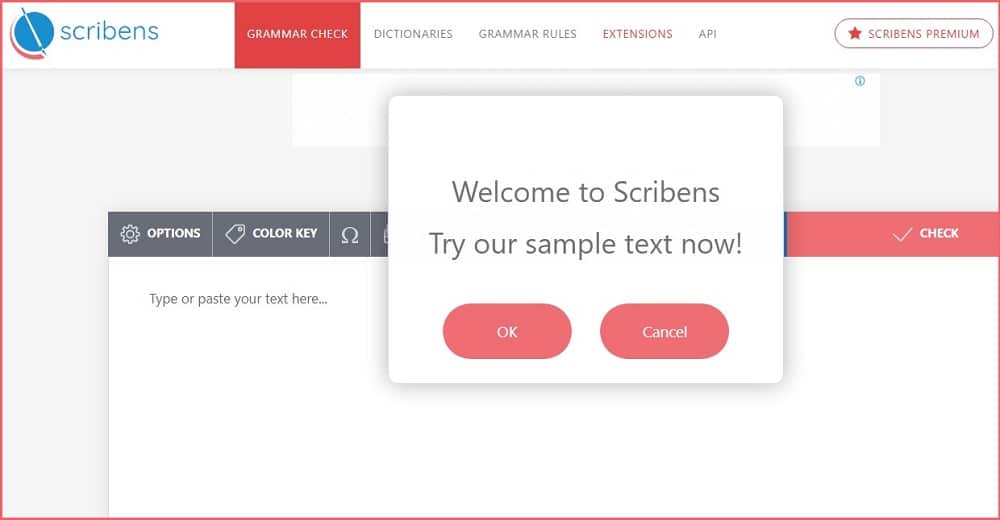 Price – Scribens is completely free to use. The premium features come at a monthly cost of €9.90.
Scribens is a tool for editing and correcting writings. It comes with a plethora of useful features. The plugin's main feature is that it integrates proofreading into the WordPress post editor.
Apart from grammatical checking, it also comes with a style report that can recommend up to 5000 unique improvements, which is enough to give a piece of work a professional look.


The writing tab's drop-down menu also includes categories for spelling, style, and grammar. Through the settings tab, you can also get a more comprehensive grammatical check.
The writing tab has a lot of proofreading options, including style rules. It appears as a small logo in the bottom right corner of the writing area in WP post editor, Facebook, and other places, and you must click on it to start it. However, for the plugin to work, you must switch to WP's text editor.
---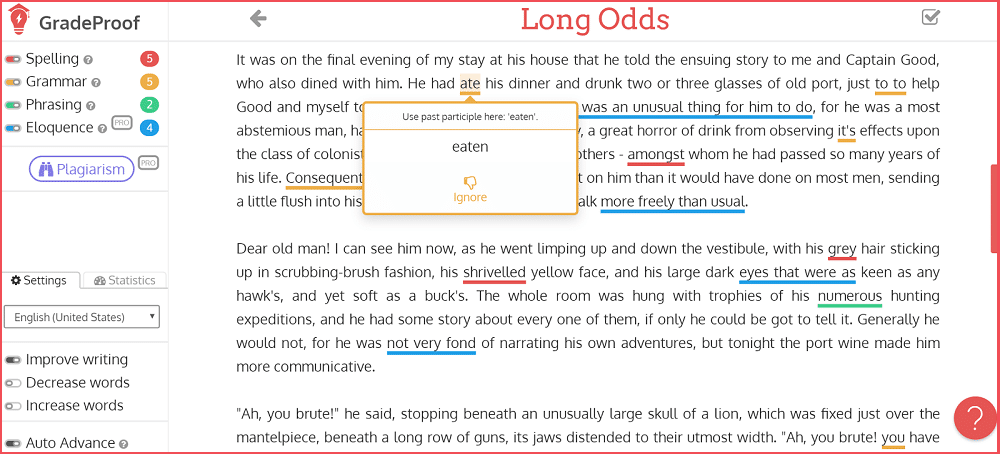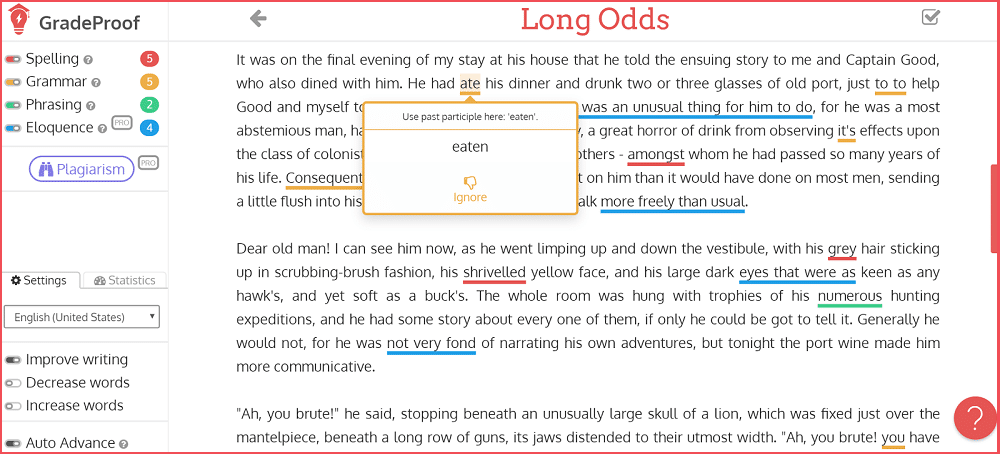 Price – The free version has limited functionality, however, the premium version has a sophisticated grammar engine, plagiarism detection engine, and eloquence detection engine.
GradeProof is a powerful and user-friendly proofreading application that corrects spelling and grammar issues. This tool offers tips for rephrasing your sentences and also tests for plagiarism, determining whether or not there are any parallels to already published work. It offers writing statistics, such as grade level, word count, and readability, so you can keep track of your progress.
You can personalize it to meet your specific needs and tastes, such as creating your dictionary and setting writing and reading speeds. GradeProof is available in both free and paid versions, so pick your preference.
---
FAQ
Q. What is a grammar checker?
A grammar checker is a software that scans your text and checks for grammar errors. It can be used to improve your writing skills by providing feedback on your mistakes and helping you learn the best ways to avoid them.
Q. How do I use a grammar checker?
Grammar checkers are a great tool for proofreading and editing. They can help you avoid making mistakes that might otherwise be hard to spot.
There are two ways to use grammar checkers:
1) Online grammar checker
2) Desktop grammar checker
Q. What is the most accurate grammar checker?
Grammarly is the most accurate grammar checker available. It scans for hundreds of errors and provides you with tips to correct them. Grammarly not only checks for mistakes but it also checks for plagiarism, spelling, and more.
Q. What is the best writing checker?
The best writing checker is Grammarly. This is a software that checks for common writing mistakes, provides style guides, and helps writers be more productive. Grammarly has free and premium versions.
Q. What are the leading online grammar checkers in the market?
Grammarly is the leading online grammar checker in the market. It is a popular tool that helps users correct and improve their writing. Grammarly is available on desktop, mobile and web.
The most popular grammar checkers are Grammarly, Hemingway, and Microsoft Word's grammar tools.
Q. How much do these tools cost?
Grammarly is the most popular grammar checking tool. It costs $29.95 a month and offers a free trial period of 7 days. Hemingway is the second most popular grammar checker and it costs $9.99 per month for one user, but there is no trial period offered. Microsoft Word's grammar tools are included in the price of Microsoft Office, so they are free to use.
Grammarly is the most popular grammar checking tool among content writers because it offers a free trial period of 7 days and an affordable price of $29.95 per month for one user. It also offers a desktop app that you can use to edit your work on your computer while Grammarly runs in the background on your browser or mobile device to catch any mistakes that you might have missed.
---
Conclusion
Proofreading and revising your writing should be a breeze with these 8 online grammar checker tools! Each has its features, advantages, disadvantages, and abilities.
Consider the needs of your writing and decide on the best grammar checker that works for you. They can help you improve your skillset and have fun during writing sessions.
Source: Security Feed